A unique opportunity to learn about science, research, technology and career paths in ocean science.
Bring your class on a field trip to world famous Woods Hole to learn about exciting ocean science and technology.
Find out what makes Woods Hole one of the most unique and biologically diverse regions in the world.
Collect marine specimens and explore the diversity of the benthic community.
Conduct oceanographic and water quality measurements.
Cruise aboard the research vessel R/V Islander and use our underwater video sled.
Explore the estuarine environment in the Sippewissett Salt Marsh.
Learn about current research projects at the Woods Hole scientific institutions.
Learn about the variety of marine careers.                   
Click on the link below to see a video of our cruise and part of our on-shore program: https://vimeo.com/191791381
The Scientific Cruise:
Classes will go on a 1 1/2 hour scientific cruise on the 53 foot research vessel R/V Islander to Vineyard Sound. Our program is designed to include hands-on activities modeled from actual research operations conducted at the Woods Hole Oceanographic Institution (WHOI).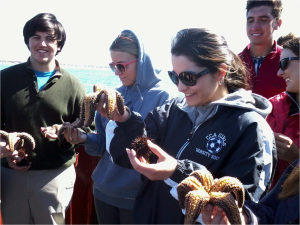 Marine Biological Activities:
Each cruise will travel 2-3 miles offshore to a site where marine organisms are known to be abundant and richly diverse. We will observe the specimens in their natural habitats using an underwater video camera towed behind the boat. Students will participate in the deployment and retrieval of a naturalist dredge to collect benthic specimens such as sea urchins, fish, sea stars, varieties of crabs and sponges, and other assorted worms, mollusks, crustaceans and echinoderms. Our on-board naturalist assists in the identification of the organisms, and will provide an overview of the natural history of each. In addition, the naturalist will describe how the organisms are used in biomedical research in the laboratories in Woods Hole. The students will also deploy a plankton net to collect zooplankton, copepods and larval stages of other organisms.
See our trip video at: https://vimeo.com/86334279
Oceanographic and Technology Activities:
Students will help deploy a sub-surface oceanographic mooring equipped with a temperature and depth data logger. We will recover it using an acoustic link and download the data. This data can be taken back to school, reviewed, and posted on our website. As we introduce students to instrumentation developed at the labs and local oceanographic companies, students see how technology plays a role in this research. Other activities include lowering a secchi disk at several locations and making water quality measurements.
Interactive Topographic Modeling System:
All students get the opportunity to use our Interactive Topographic Modeling System, also known as an Augmented Reality Sandbox. Here students can collaborate and create coastal 'scapes' and experiment with making and observing the effects of sea level rise, storm surge and tsunamis.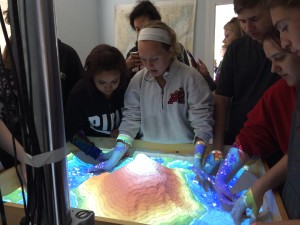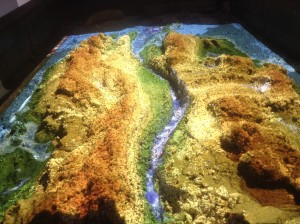 Tours:
A behind-the-scenes tour of a wet lab at WHOI can be requested as part of the program trip. Additional stops can be arranged to visit the WHOI Exhibit Center or WHOI dock, and/or NOAA's Science Aquarium. Teachers can also arrange to take a guided salt marsh tour, where wediscuss the habitat, adaptations by the plants and animals, and the important role of estuaries.
Activities Based on WHOI research projects:                                                                                                                                                        
Through our collaborative agreement with WHOI, we present focused synopses of several research projects currently being conducted at the labs. We model our data collection activities directly from this research, often replicating the techniques used by the scientists. In our discussion of the questions, results and relevance of the research, we cover topics such as food webs, ocean circulation, ocean acidification and climate change. All of our programs are designed to include collection of data that classes can take back to the classroom, review, and post to our website.
Capacity: The R/V Islander can accommodate up to 22 students. Classes larger than 22 are split into two groups for two back-to-back trips. While one group is on the boat, the other tours Woods Hole. Then we swap. We host one class a day; our day is based on your schedule.
Schedule:
Our schedule is totally dedicated to the visiting class and is flexible to meet your schedule. We usually go Monday through Friday, and typically depart by 9:30 or 10 am. Reservations Required. Please contact us for classes larger than 45.
Please contact us regarding Saturday trips.
This program addresses portions of the Massachusetts
Science and Technology/Engineering Curriculum Framework.
Student evaluations:
99% said they enjoyed the trip and thought it was educational.
97% said they gained a better understanding of the importance of the work conducted by oceanographers and marine biologists.
93% said it was one of their best field trips ever.
81% said their experience made more interested in becoming involved in science in school or as a intern.
91% said they would like to learn more about the science and technology they saw in Woods Hole.
88% said they were surprised by the variety of different occupations and activities in the scientific community in Woods Hole.
A few written comments from teachers and students:
"The students are working on a video clip because they consider it as their best field trip ever. All I hear from the kids is how great a trip it was. I can't express how truly grateful I am for all you were able to share with my students."
"What a fabulous program! What a fabulous day! What a fabulous crew! I'm recommending we make this a permanent trip, and perhaps even engineer some experiments we can do, leveraging our new science lab scheduled to open next year."
"We would LOVE!!! to come down to Woods Hole again this year. All the kids and teachers said it was our best field trip ever."
"My students keep referring to this trip as their best field trip ever."
"The students were engaged, asking questions, making guesses and touching animals. Great job and very informative. Students enjoyed the day immensely, it was very well organized."
"It was nice to see the kids' eyes light up when they made the connection between something we talked about in class and what they were seeing right in front of them."
"It was by far the best field trip we've ever been on. It was a once-in-a-lifetime experience. It allowed me to learn more about marine science. I'm finally doing real science!"